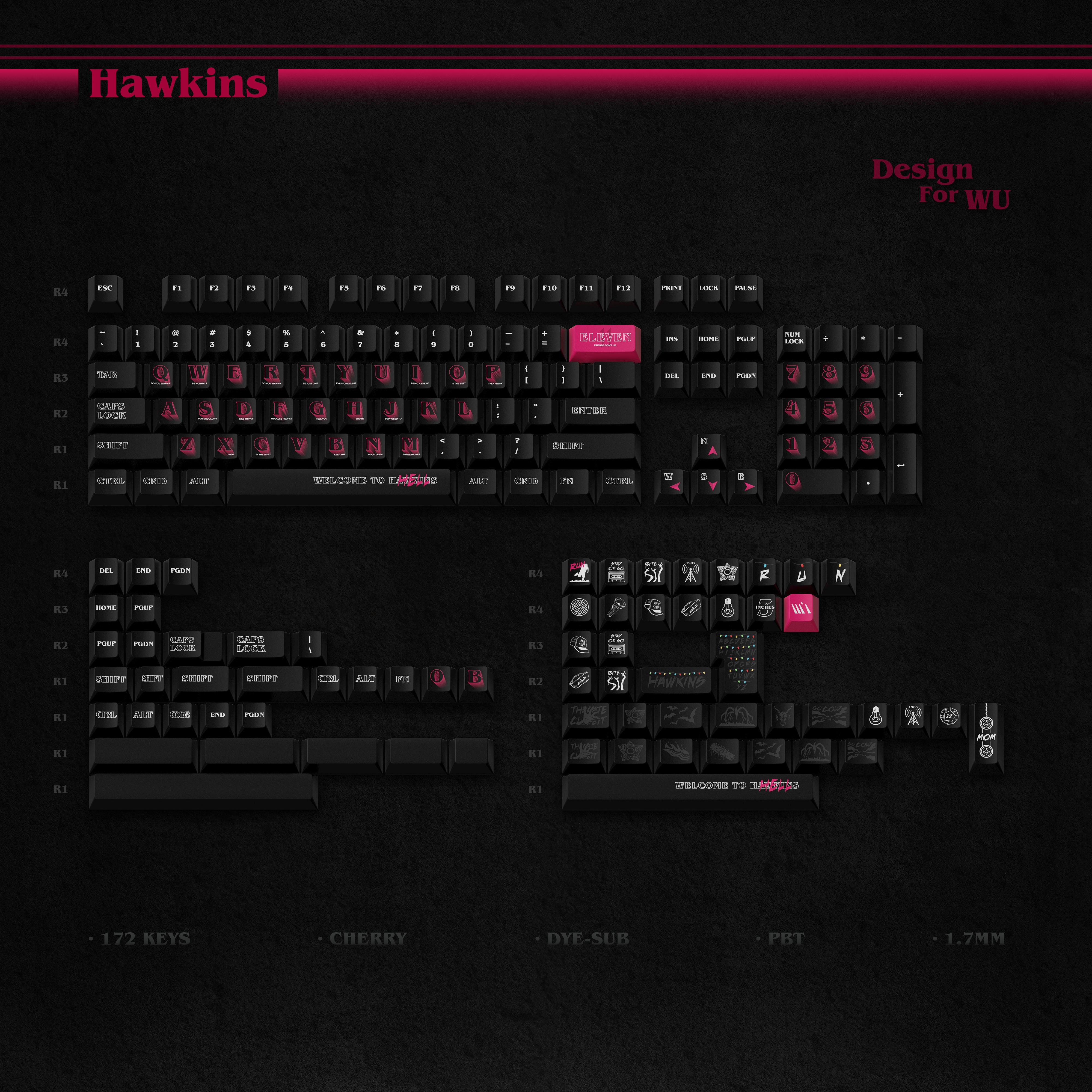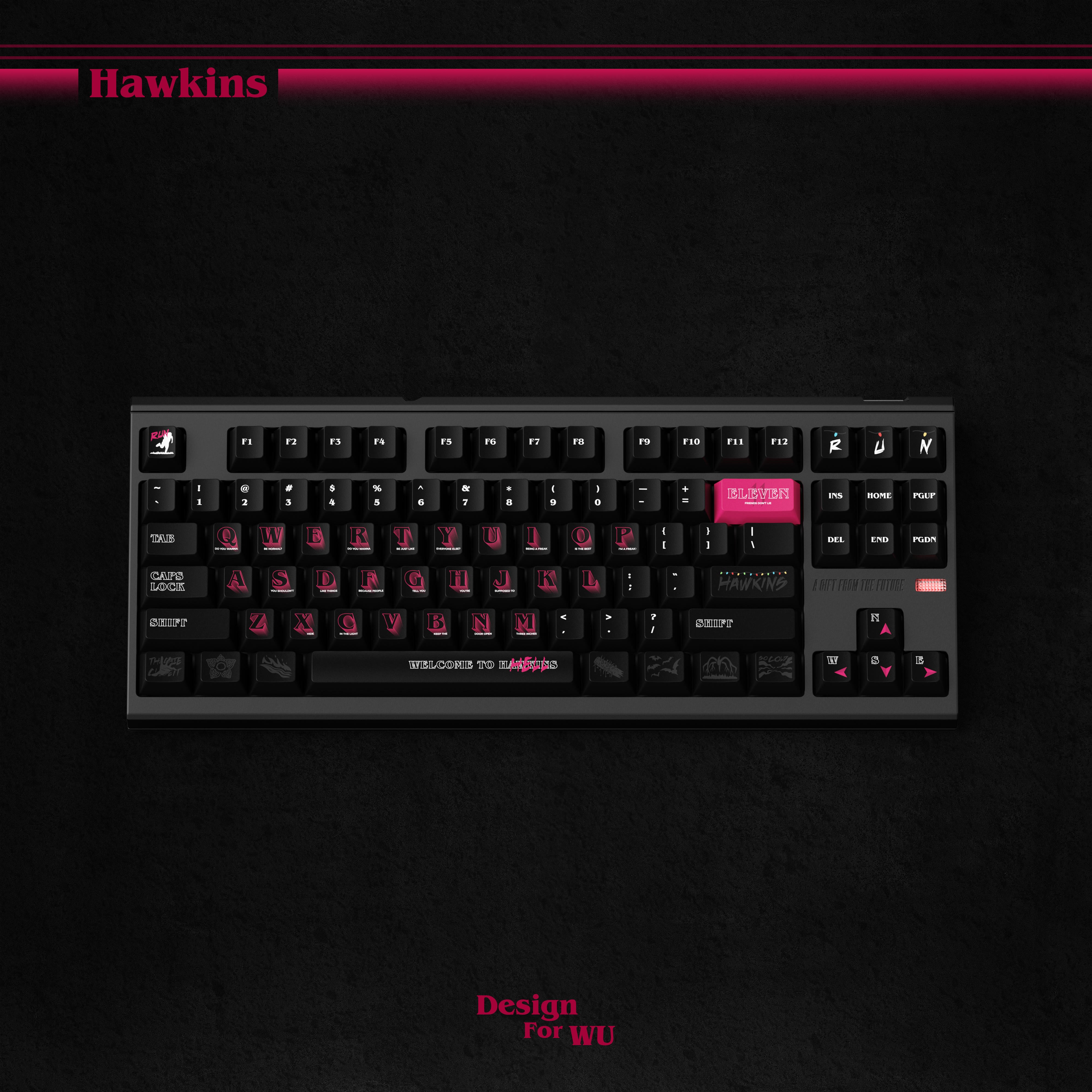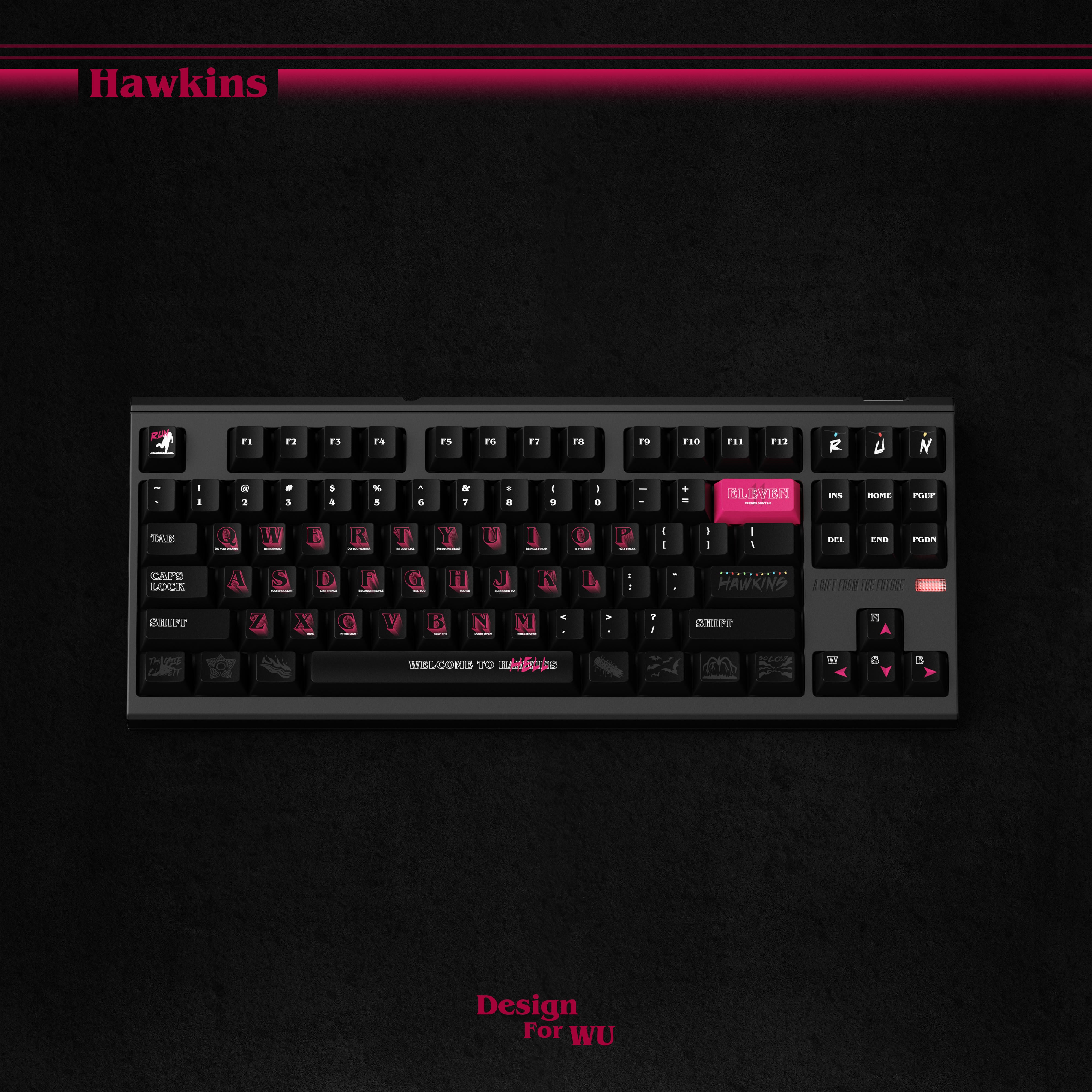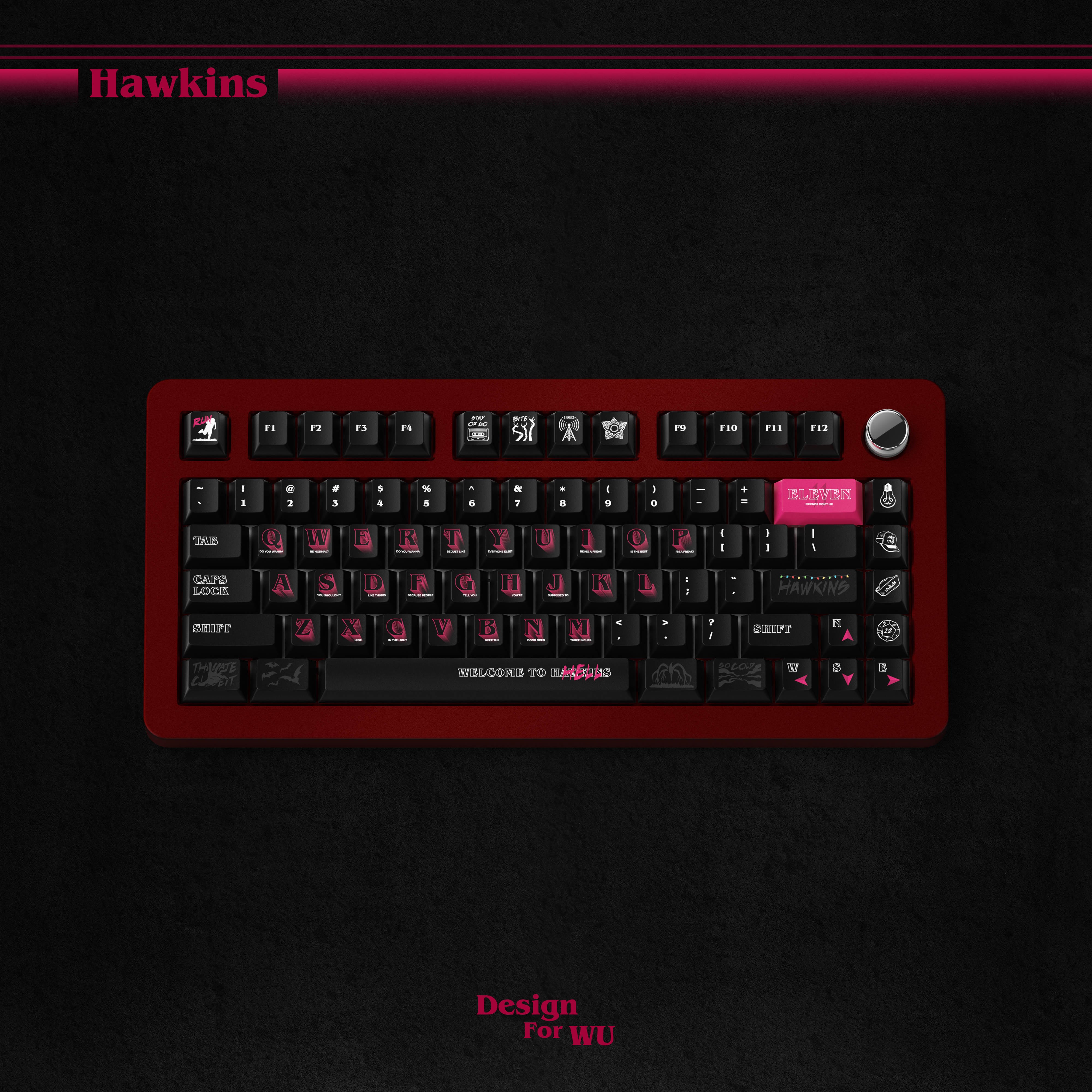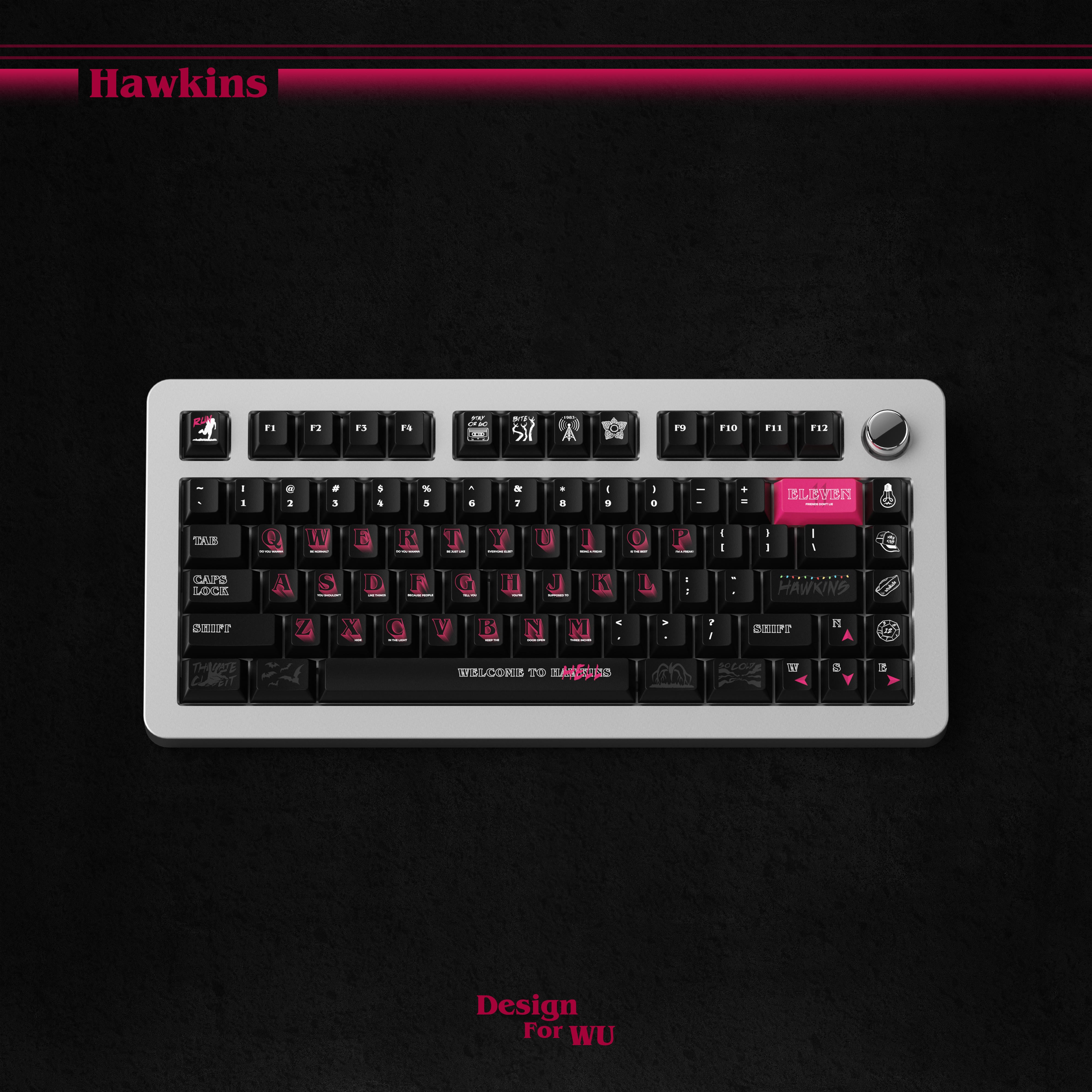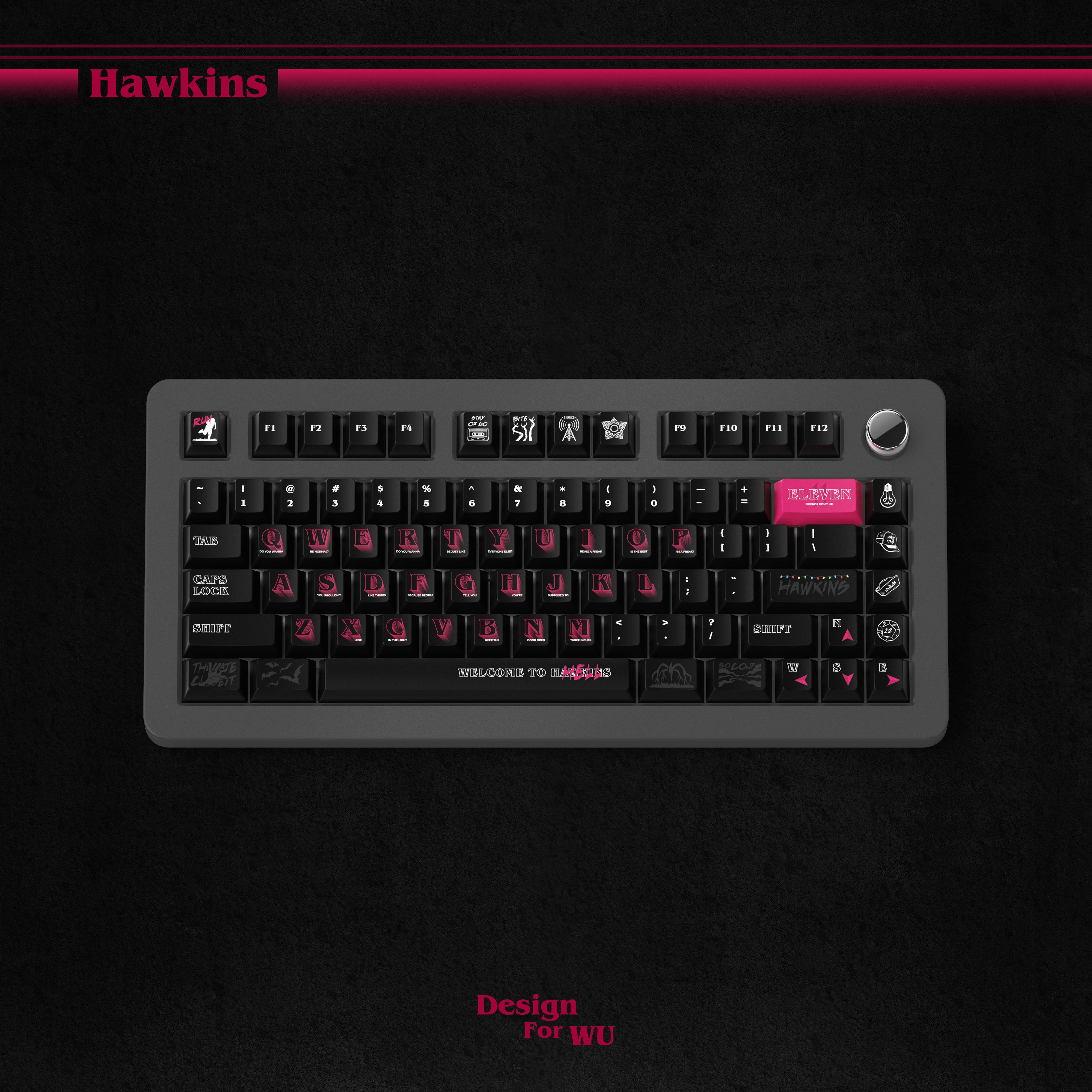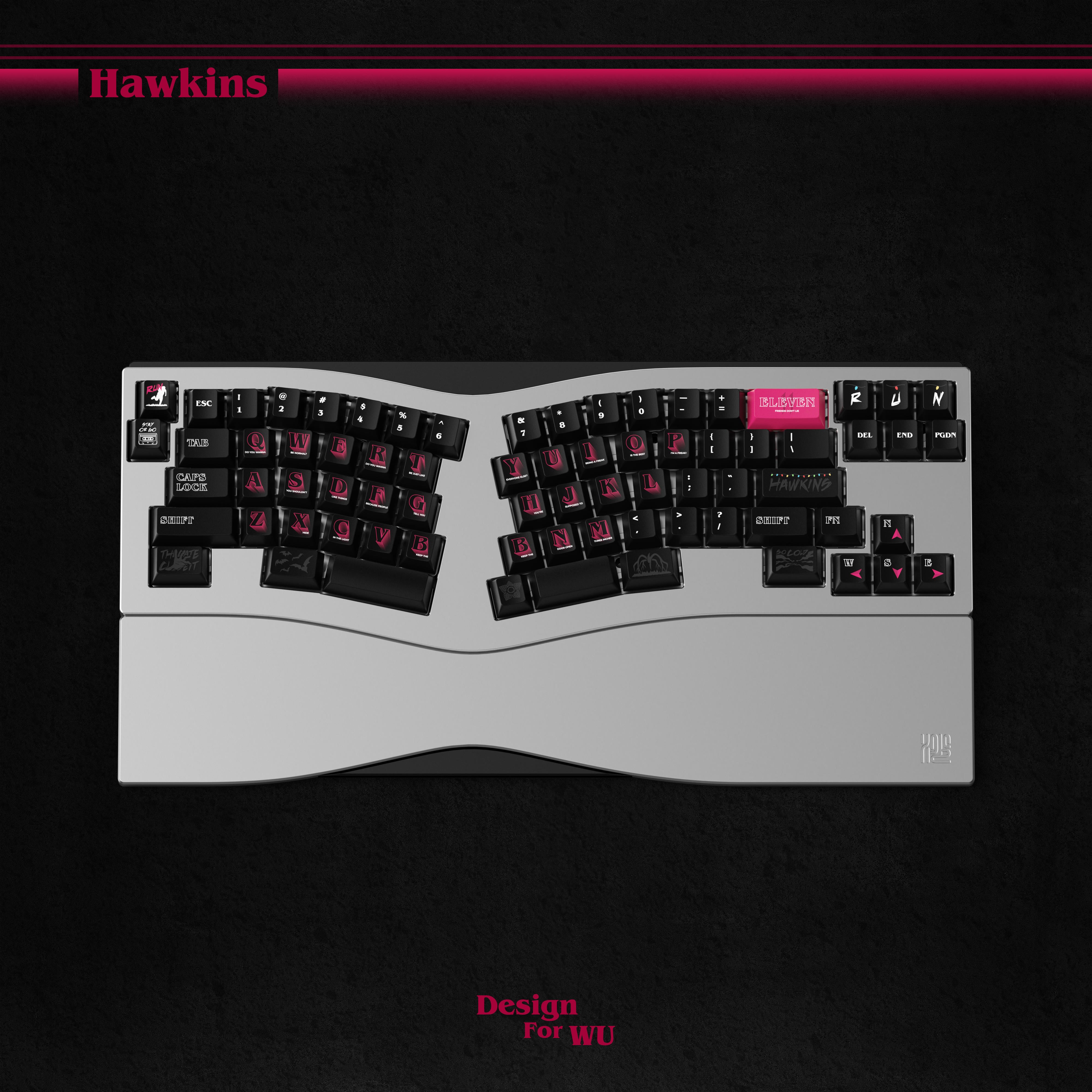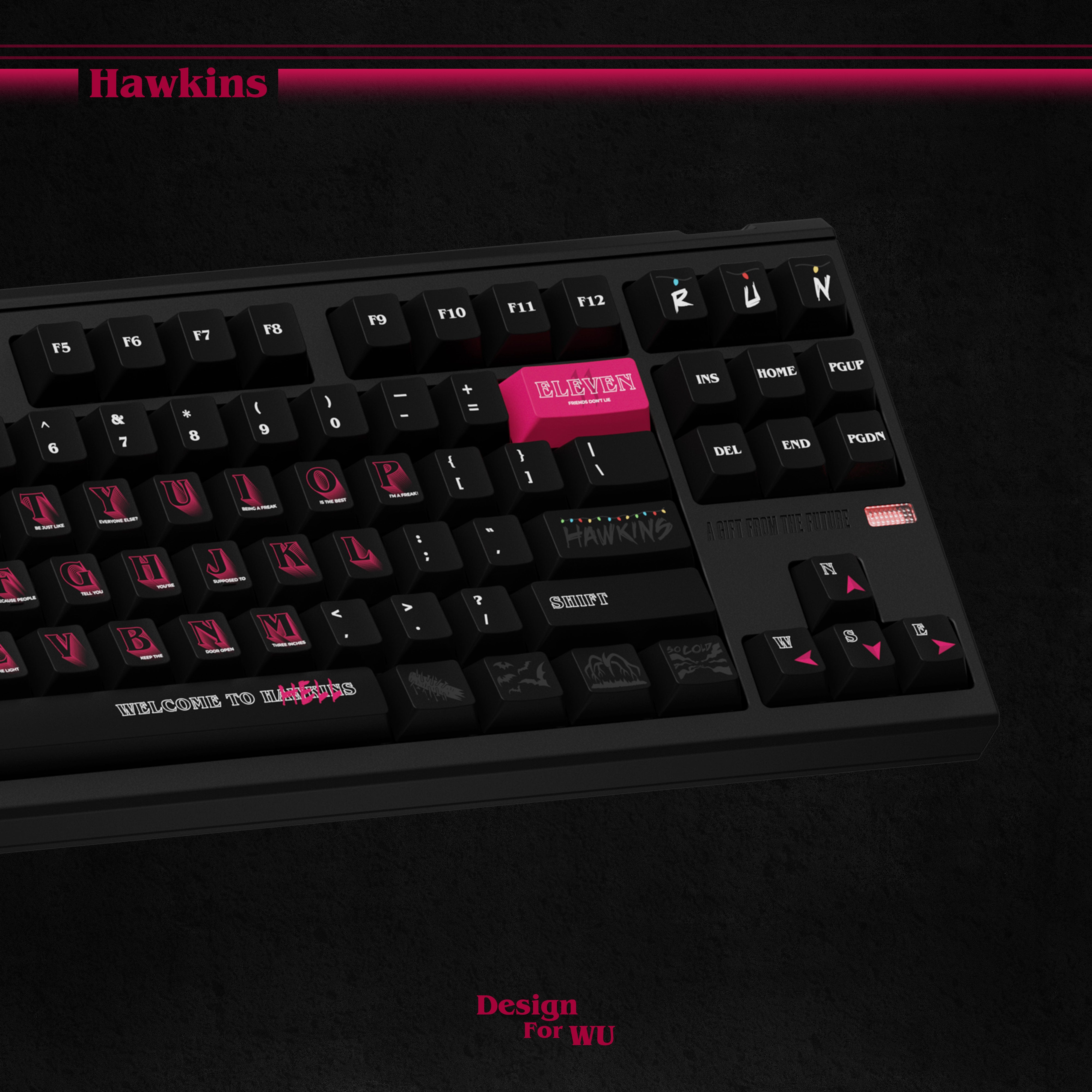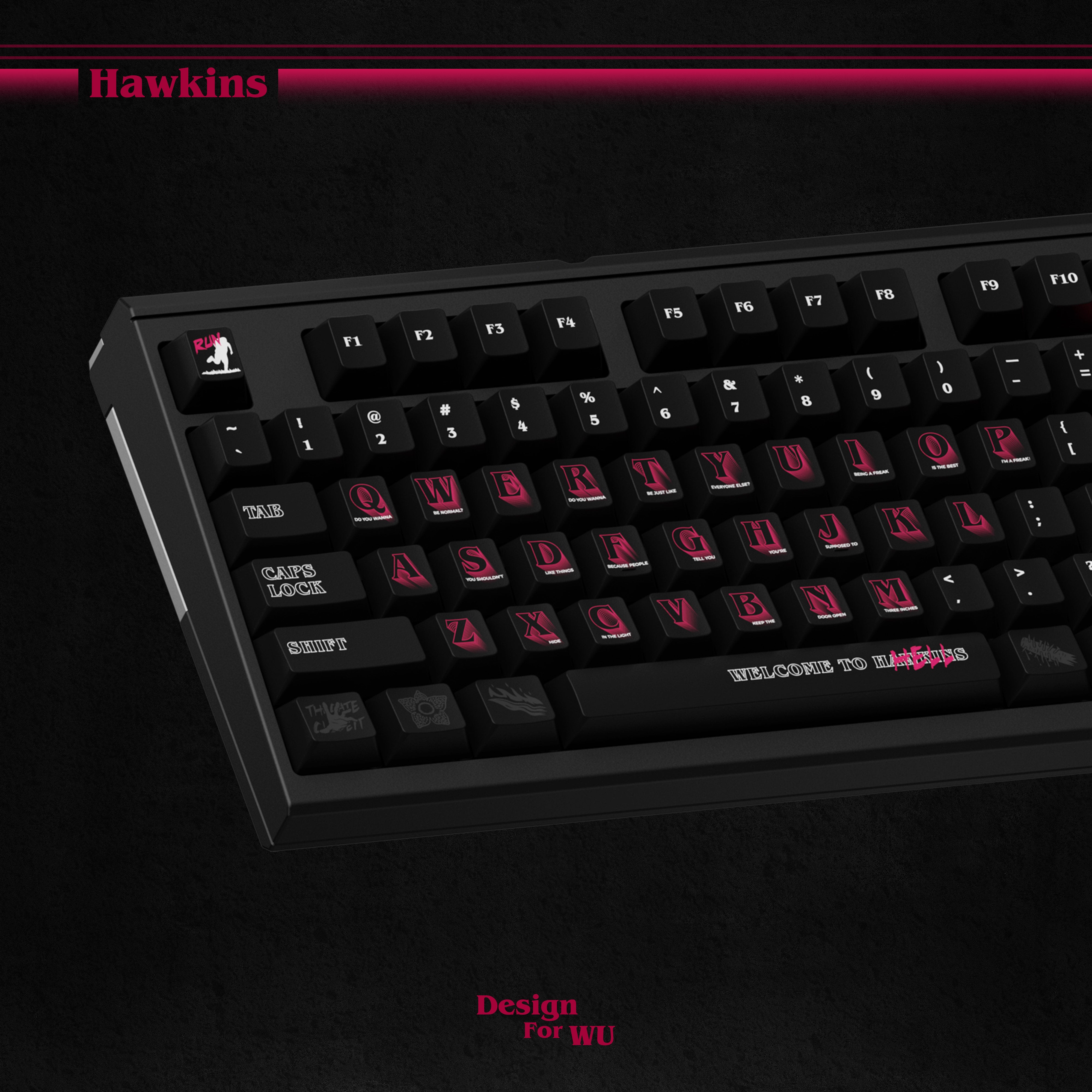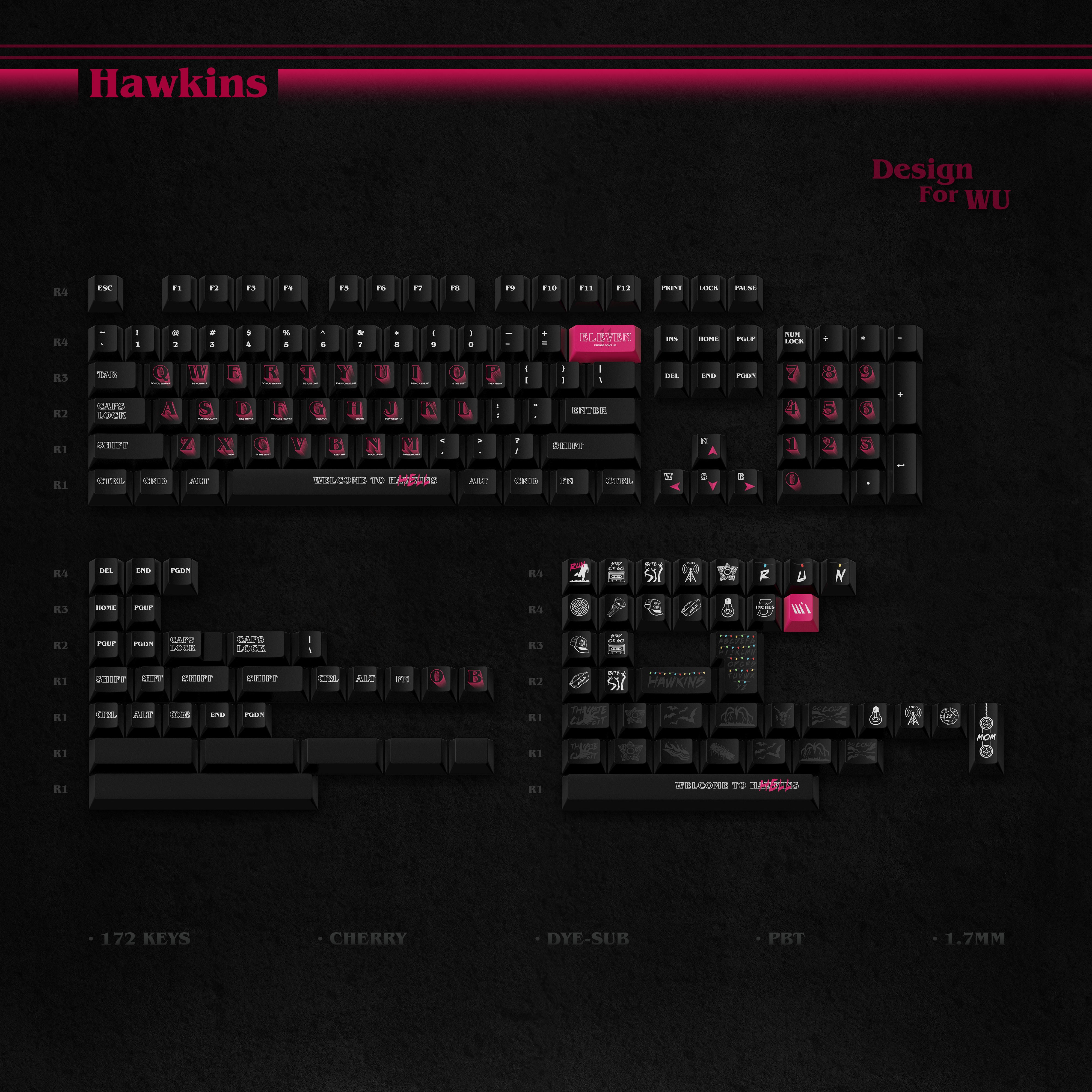 WUkds Stranger Things Keycap--Hawkins
---
Stranger Things Keycap--Hawkins

Welcome to Hawkins (Hell)
The name of this keycap is taken from the name of the town "Hawkins" in the play.

Set in the small town of Hawkins in the 1980s, the show follows a boy who inexplicably disappears, and as friends, family and local police search for answers, they are drawn into an extraordinary mystery ; There is also the appearance of the little girl Eleven, a secret experiment and the inside story about supernatural powers are gradually revealed.

* Note: This is a Keycap, Not a Keyboard!!!!
*Number of Keys: 172 Keys
*Height: Cherry or Kca Profile
*Material: PBT DYE-SUB
Keycap thickness: 1.7mm


【Gradient style design】: The color of the keycaps of this model is derived from the main color in the play, using 100% black as the keycap color; and then choosing eye-catching rose red as the color of the letter area to emphasize the visual center, and adding the play in the letter area The small print of the classic lines reflects the individuality. The R1 personality key at the bottom layer uses dark gray to express the desolation hidden underground.
【Many styles of personalized supplementary keys】: This keycap set has a large number of personalized supplementary keys, you can use them to assemble different styles of keyboards according to your own ideas. When you get tired of one color style, you can change your keyboard to a new style by swapping out a few keycaps.
【Widely Compatible】: 172 keycaps can be used for most ANSI US layout mechanical keyboards, and any key switch with a cross-shaped axis. 172 keys can fit for 61/87/104/108/84/64/98/96 mechanical keyboard.With 7U space bar and 1.5UAIT CTRL key and double B key.Compatible with Alice mechanical keyboards.
【Dye-Sublimation PBT Keycaps】: With high-quality PBT material and an anti-grease coating, these keycaps provide top-notch durability and a great feel for your typing. less prone to grime buildup. The Dye-Sublimation technology made the color has penetrated into the keycap, the service life of up to ten years will not fade.
【Extra-Thick Key Walls】: The thickened keycap wall makes the keycap more sturdy and durable. The quality is not lost on those expensive keycaps. Packed in blister and carton with a keycaps puller, it is an absolutely worthw
Keycap material introduction:

The material used this time is a material with a wall thickness of 1.7MM, and the keycaps have a full impact feeling. The wall thickness of each keycap is more than 1.7MM, and there is no leakage of the shaft and no key sticking. And it can also make the black of the keycap extremely black. The keycap on the right of the photo is the keycap of this time.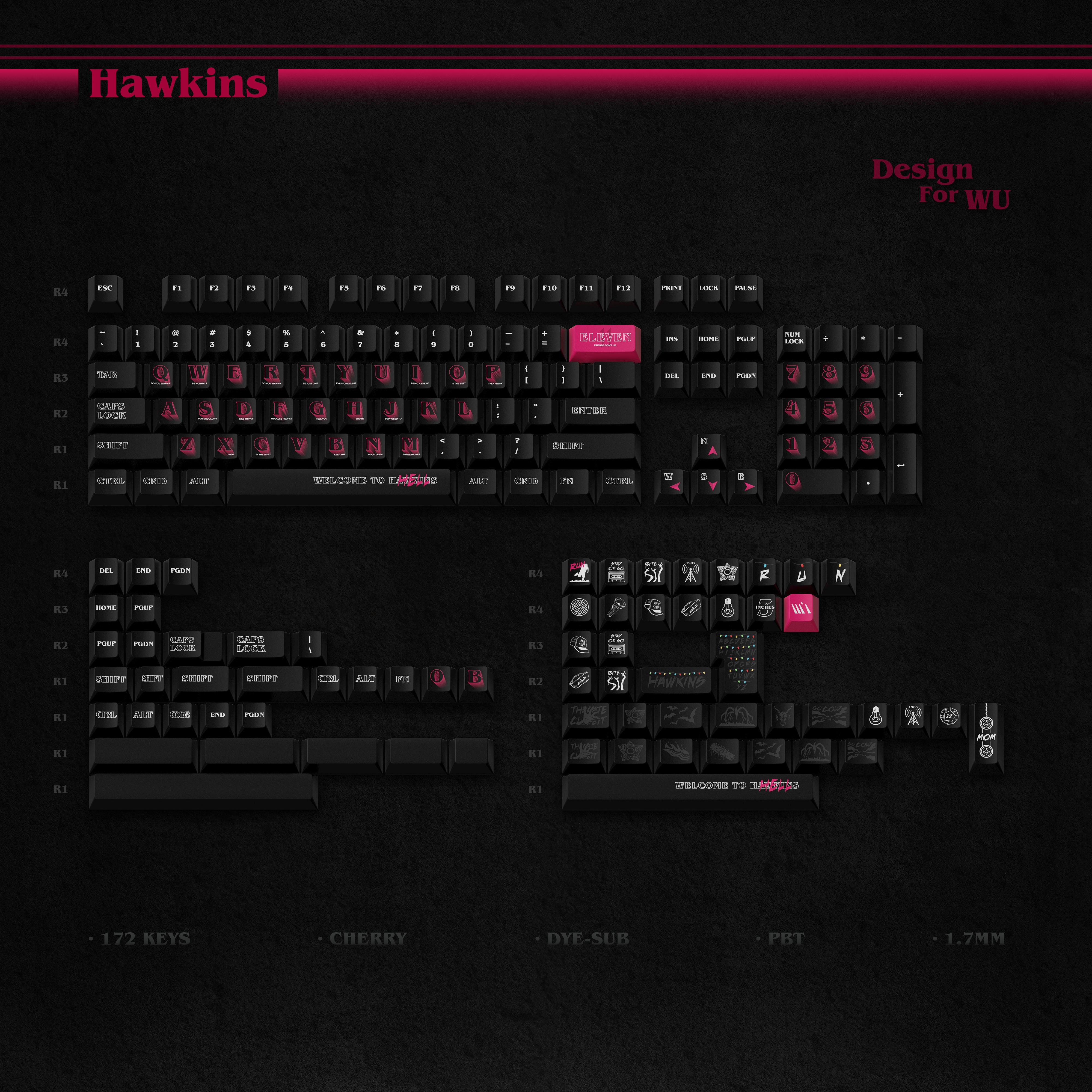 This product has no reviews yet.